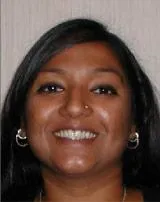 Dr. Neha D. Kalaria specializes in managing the complex medical conditions of the elderly population. She is compassionate and dedicated to providing excellent medical care for her patients. As patients age, they face conditions such as frailty, incontinence, dementia, osteoporosis and functional decline. During her fellowship at the Veterans Administration in Baltimore, Dr. Kalaria treated aging veterans for issues such as dementia with a variety of causes and osteoarthritis. She strives to help her patients meet the challenges of aging while maintaining comfortable and independent lives. Dr. Kalaria provides care in transitional care units, nursing homes and assisted living. She is board certified in Internal Medicine and has completed formal training in Geriatric Medicine.
Affiliations : Union Memorial Hospital, University of Maryland Midtown Campus
Fellowship : University of Maryland-Veterans Administration, Geriatrics (2013)
Residency : Union Memorial Hospital, Internal Medicine (2012)
Medical School : American University of Antigua (2009)
Undergraduate : B.S. Psychology, University of Maryland, College Park (2004)
Memberships : American College of Physicians, American Geriatrics Society
Dr. Kalaria was born and raised in Carroll County. When she's not at the office, she enjoys spending time with her family and friends, traveling, and cheering for the Ravens and Orioles.